An ISO 9001 2008 Certified Company
CCTV Surveillance
The Close Circuit Television is being widely used for domestic & industrial application and at hospitals, schools, show rooms and other high security risk areas. Infinity Technologies & services installs the complete close circuit television system. We also do surveys of the sites to give the precise integrated solution regarding CCTV surveillance.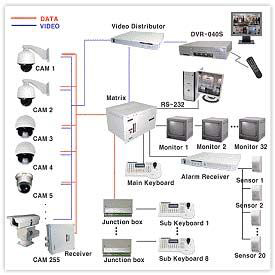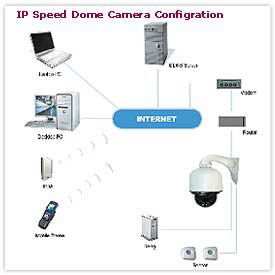 We have wide range of CCTV products:

Fixed Camera, Dome camera & Vandal Proof Camera series

High Speed Dome Camera series up to 30 X Optical Zoom

Matrix Switcher and Joystick keypad controller

All type of Indoor/Outdoor Housing & Accessories.

IP security camera
IP security camera: In an IP security system the IP security camera connects directly to an IP network by wired or wireless means, providing live digital video for all kinds of surveillance and monitoring applications. An IP network camera can be described as a camera and computer combined in one intelligent unit. It captures and sends live video directly over an IP network, enabling authorized users to locally or remotely view, store, and manage video over standard IP-based network infrastructure. In an IP security system , an IP network camera has its own IP address. It is connected to the network and has a built-in web server, FTP server, FTP client, e-mail client, alarm management, programmability, and much more. A network camera does not need to be connected to a PC; it operates independently and can be placed wherever there is an IP network connection We offer a wide range of high quality ip network cameras for securing people and property, remotely monitoring equipment and facilities. We also do surveys of the sites to give the precise integrated solution.


Special Purpose camera Equipment:

Wireless Video & Data transmission Equipment

Video Fiber Converter for CCTV Application
Single Video Input Fiber Converter (Set of Transmitter & Receiver)


Video Fiber Converter is an exclusive design for CCTV signal over fiber application. It converts the standard electronic video analog signal into Multimode fiber, so the longest transmitting distance can be up to 2km without any amplifiers or repeaters. In the central control side, the optical signal will be converted back to stand video signal (NTSC/PAL).


Electronic Security
With a history of offering high quality products and solutions to the most complex projects in the country, the name Infinity has now become synonymous with electronic security in India.
Access Control System
The integrated access control system and alarm-monitoring system is ideally suited for medium to high-end sized facilities and delivers unsurpassed simplicity, versatility, simple operation and cost efficiency. Access Control System incorporates the most advanced technologies available, including modern object-oriented software, advanced client/server database architecture and Microsoft's multitasking, multithreading 32-bit Windows 2000/XP operating system. Solid technology and an intuitive graphical user interface combine to make ACS the most powerful - yet easiest to use - integrated security management system on the market.



Complete Integration with Unlimited Applications
Intrusion Alarm Integration

Elevator Control Integration

CCTV & DVR Integration

Photo ID Software Integration

Building Automation Integration

HVAC & Lighting Control

Multi Server Architecture

Switch On / Off Scheduler

Biometric Integration (Finger, Iris, Face & Palm Reader)

Smart Card Integration

Entrance Control Integration (EM Door Lock, Turnstile, Boom Barrier, Flap Barrier, Bollard etc.)
HR/Time & Attendance Management
The Attendance Management System delivers a complete and costeffective time and attendance solution such as smart card solution, integrated security solution for Medium & a large enterprise - a solution that dramatically reduces workforce management costs and generates significant increases in employee productivity .



Features
Seamless integration with existing ERP, HR and legacy systems

Organization-wide access through Internet, intranet and corporate email systems

User-and role-based security and functionality

Scalable to hundreds of thousands of users, across multiple locations

Broad platform support